Obituary for Jack Everette Williams
Obituary ~ Jack Everette Williams, 85

It is with heavy hearts that we announce the passing of Jack E. Williams, a beloved family man and friend. He went home to be with the Lord on Friday, March 16, 2018 after living a wonderfully full life of 84 years.

Jack is survived by his wife, Linda M. Williams of 63 years, and their four children: Sally Myers (Gary), Gregory Williams (Gabi), James Todd Williams (Cindee) and Cindy Horist (Terry). They have 12 grandchildren and 5 great grandchildren.

The Homecoming Celebration will be held on Saturday, April 14, 2018 at 1:30pm at Rancho Community Church, 31300 Rancho Community Way in Temecula. For Jack's Homecoming Celebration of Life details, please visit www.englandfamilymortuary.com.

Jack's journey began on January 20, 1934 in Plainview, Texas. He attended Clovis High School in New Mexico and was a star basketball player. He met Linda Marie Maples in high school and they tied the knot on December 23, 1954 in Clovis, New Mexico.

Jack and Linda moved to Southern California where Jack joined the Marine Corps. After serving his country, Jack entered the food service industry in the 60's and joined Collins Foods Service where he worked with Jim Collins, a franchisee of Kentucky Fried Chicken restaurants. Collins acquired an independent steak house in Culver City, California in 1958, which was the beginning of Sizzler Restaurants. Jack was instrumental in growing the Sizzler brand across the country. His enthusiasm and entrepreneurial spirit paved the way for him to become a Sizzler franchisee in the early 70's. Jack's passion and business savvy opened the door for him to operate 36 locations in Southern California and became its largest franchisee. His innovative leadership style led the renovation of the iconic American brand and brought him great notoriety and awards in the restaurant industry.

In the late 80's, Jack retired from Sizzler and together with his wife Linda, they founded Richie's Real American Diner. Their diners continue Pleasin' People with Good Country Cookin' in Temecula and Murrieta, along with the Diner in Rancho Cucamonga, owned by their daughter and son-in-law, Sally and Gary Myers. Jack and Linda have enjoyed working alongside their children who are dedicated to keeping the character and culture of Richie's Diner a household name for generations to come. Jack's Texas roots and Linda's Alabama roots are the inspiration for their home-style recipes, wood-smoked steaks and luscious desserts. It's well known that Jack's love for people, his humor and Linda's love for fun and made-from scratch cookin' has made Richie's Diner the go-to place for food, fun and fellowship. In May 2014, Jack was honored by the most prestigious restaurant award in the industry, the Silver Plate Award, presented by the IFMA (International Food Manufactures Association) in Chicago.

Jack was the purchasing guru for his dear friend, Eddie Sheldrake, founder of Polly's Pies. While Jack traveled the country selecting the best ingredients for Polly's and Richie's, he never swerved from Pleasin' People. During Jack's 26 years of loving the nostalgia of the good ol' days brought to life in Richie's Diner, he enjoyed every guest who walked in the front door. It wasn't uncommon to find him, welcoming his guests with, "Hey there, Hi there, Ho there" or, you'd hear him say, "I'm doing good, good and gooder". You'd also find him sitting with his guests and sneakin' a French fry or two. He was likened and trusted as a father, grand-father, great-grandfather, friend, mentor and encourager. His love for Jesus beamed across his face as guests would not only come for the home-style cookin' but they couldn't leave until they introduced their friends to this awesome man who had passion for people, loved to hug and knew how to listen. He adored his Richie's staff and he was so proud of their commitment and dedication to their guests.

The son of a Cattle Inspector, Jack grew up on a horse and became one of Temecula's trail-riding cowboys. His love for horseback riding was another way he engaged and interacted with so many folks in the community. They'd saddle up the horses at his and Linda's small ranch and away they'd go exploring the open trails of south Temecula. Of course, the heart-beat of the ride was corralled around how great our Lord and Savior Jesus Christ is! His horseback riding adventures also included his children, grandchildren and even his great-grandchildren. As the story has it, they lost track of time ridin' and snackin' on tons of Diddy's candy like Jolly Ranchers, Tootsie Rolls and sippin' on Coca Cola he pulled out of his saddle bag. He was literally a sweet grandfather!

Jack Williams touched more people than he ever realized. Throughout his life Jack always sought to serve, whether it was his customers, his community, friends or family to become the best that they could be. His legacy of helping others, giving back to the community, lending a hand, giving great advice to those who embraced hard work, honesty, integrity will forever be remembered. Jack loved his country, was proud to be an American and sincerely believed and cherished the words, "God Bless America."

Jack had a gift of touching lives in an incredible and inspirational way. Every person who met him has a "Jack Story". The family would love to hear yours. May God be the Glory!
To send flowers or a remembrance gift to the family of Jack Everette Williams, please visit our Tribute Store.
Previous Events
Visitation
England Family Mortuary
27135 Madison Ave
Temecula, CA 92590
Service
Rancho Community Church
31300 Rancho Community Way
Temecula, CA 92592
Memorial Contribution
Holocaust Remembrance Foundation of the Valley
23905 Clinton Keith Rd #114-263
Mail Check to: Attn: Jack Flournoy
Wildomar, CA 92595
Jack was on the committee to build a memorial in the Murrieta Town Square for Holocaust Victims and a strong supporter of the annual Walk of Remembrance. How to Donate: Make Check Payable to: Holocaust Remembrance Foundation Mail Check to: Attn: Jack Flournoy Holocaust Remembrance Foundation 23905 Clinton Keith Rd #114-263 Wildomar, CA 92595
Rancho Christian School (RCS) Athletic Department
Jack loved basketball (he played this sport in high school, college and in the Marine Corps) and all of the athletic teams at RCS. How to Donate: Check Payable to: RCS Athletic Department / memo: in honor of Jack Williams Mail to: Attn: Betsy Kunua RCS Athletic Department 31300 Rancho Community Way Temecula, CA 92592 (Betsy phone - 951.303.1408 ext 6453 for donation questions) online donations: www.ranchochristian.org click menu on right/click give/click give online/click quick give on left/athletic department in memo write in honor of Jack Williams
Our Nicolas Foundation
Autism awareness and support in the Temecula Valley. How to donate: www.jackwilliamsmemorialfund.com will take you to a special page set up directly for donations in Jack's memory. Please share your special "Jack Story".
Memorial Cards To Williams Family
Linda Williams
PO Box 1657
Temecula, CA 92593
Memorial Cards can be sent directly to the Williams Family using the listed P.O. Box.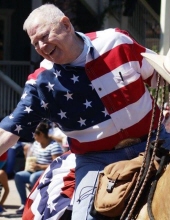 Thank you for sharing your
memory of Jack
Provide comfort by sending fresh
flowers from our local florist.
No thanks, please don't show me this again.