Obituary for Flora Kamel Elmassri Ph.D.
One of the hardest thing a person have to do at some point of life is writing an obituary for a loved one. Most obituaries I have ran across go through the person biography and describing their traits and habits, however, sitting down to write one for my mother, Flora Elmassri, I realized that these 2 would not do justice to describe her, so I will go through these 2 very quickly and move on to her achievements as a human being and the impact on the lives she touched while she could.

On May 3rd 1944, Flora was one of a twin sisters Born to Kamel Elmassri and Rebecca Sharawy. She attended French school all her life between Cairo and Alexandria Egypt. Graduated with a degree in literature with minor in Psychology. She started her carreer in the Psychology Department of the Ministry of Internal Affairs while pursuing her higher education ending up with her Ph.D. in 1969, a year after she was married to Sobhi Attalla, a high ranking officer in the Egyptian Navy. In 1970 she had her first child (Hani Attalla), where she ended up caring for alone after a sudden deployment of her husband that lasted over 2 years. During which time she was the main psychologist for all Juvenile cases in the jurisdiction. In 1974, she had her second and last child (Happy Attalla). In 1988, at the age of 44, she lost her husband leaving her with two teenage boys and a business to look after in addition to her work and passion in fighting against all odds to straighten paths for troubled youths. Over the years she became the Deputy Minister of Internal Affairs, but continued to carry her role in the Juvenile support passion until she retired in 2010.

Now, the life and roles described are just the surface of who she really is. As a human being, she defined the meaning of ultimate altruism. She gave birth to two children but was a mother to tens, if not hundreds, of youths. Starting from other kids in the family, to our neighborhood and church friends, all the way to troubled youths that she described all they need is the missing ingredient in the recipe: love. Growing up, our home was always filled with kids, it is not unusual on a given day that I am seeing some of these people for the first time. There was always food for everyone, and although she sits on the table with us, I do not recall seeing her eating, rather cutting food, removing shells de-boning meat, everything that makes it easier for people to eat so they do not have to do it themselves. She would give up every last penny she has for someone that she feels needs it more; she would give the last minute in her day for someone that needs a kind ear to listen or to fulfill a cry for an advice or guidance; she would give her last ounce of energy to run and help someone in trouble, she gave up a faster career path because she could not let go with children and youths that she has in her heart adopted them. I recall being jealous for her attention to others and remember asking her: why would you run and help some of these kids after you gave them second chances? And her answer was always consistent with a smile: and who set the maximum number of chances to two? Then she would go on saying: can you keep a secret? No matter what I do, their chances are limited, so we have to make the best out of them, but for you, you have infinite chances, I will always be there for you guys; well…she may not have accounted for today. I have witnessed some of the most troubled youths you can imagine appearing in our lives for a period of time, disappear, only to appear again after many years with their families and children whom they are providing stable, safe, and comfortable life to. I am not sure what made me more proud, the happiness on my mom's face greeting them and feeling that she contributed to that, or the sincere look of "I am eternally grateful" that does not leave these peoples' eyes from the time they step a foot n our home. Of course not every story was a success story, and I have seen her sadness in such situations; I am not sure what it takes for someone to be willing to endure that pain over and over for the chance that some will succeed; persistence was definitely her strength.

Later in life, her twin sister was burdened by one of the worst diseases in my opinion: Dementia; those of you who are familiar with it understand that it destroys families. My mom made it her personal mission to make sure that she was comfortable and taken care of for at least decade before her sister passed away and around the time when she started showing the same symptoms. That was the time to collect all she paid forward, and people helped when they could; but there was no Flora out there to fully dedicate herself. At this point everyone realized how hard it is to drop everything and tend to others, how hard it is to answer their calls for help every time no exception, how difficult to offer advice and make time to follow up on it unsolicited, basically how hard it is to be her, to live her life. Unfortunately, with today's life's demands, this realization came to everyone too quick with not enough time for her to collect a small portion of what she is owed. She was never waiting for a pay back, at least not here, so if there is a heaven, I am certain that is where she is now, and if there isn't one, I am sure one will be created specially for her. your turn to receive mom…..
To send flowers or a remembrance gift to the family of Flora Kamel Elmassri Ph.D., please visit our Tribute Store.
Previous Events
Service
St. Thomas the Hermit Coptic Orthodox Church
31863 Ruft Rd.
Winchester, CA 92596
Graveside
Temecula Public Cemetery
41911 C Street
Temecula, CA 92592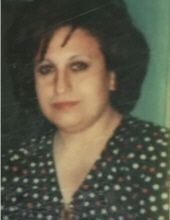 Thank you for sharing your
memory of Flora
Provide comfort by sending fresh
flowers from our local florist.
No thanks, please don't show me this again.